AUTHORS TRANSLATED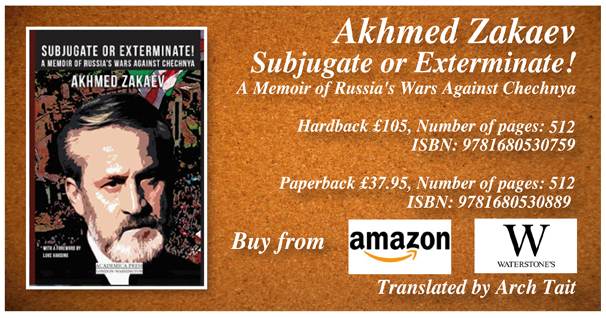 Akhmed Zakaev is one of the late twentieth century's most important witnesses. He played a key role in Chechnya's struggle for independence. During Chechnya's two doomed wars with Russia – between 1994-1996 and 1999 to 2003 – Zakaev was at the heart of events. He was variously a minister, a military commander, a negotiator, and a presidential candidate. Most other senior Chechen figures from this period are dead. Many were wiped out by Moscow. Zakaev is almost the last survivor.

His memoir – 'Subjugate or Exterminate!' – is therefore a compelling historical document. And a unique one. It is a first-hand account of how after the collapse of the Soviet Union Chechens tried to build their own sovereign democratic state.
- Luke Harding, Author of Mafia State, A Very Expensive Poison, The Snowden Files, and Collusion.
Akhmed Zakaev is a symbol of the indomitable will of the Chechen nation. In this important memoir, he tells the story of the Chechen struggle as he experienced it, describing the conflict in human terms and providing a detailed documentary record of little known or badly understood events that will be of benefit to historians for generations to come.
- David Satter, Author of The Less You Know, the Better You Sleep: Russia's Road to Terror and Dictatorship under Yeltsin and Putin.


LATEST TRANSLATIONS