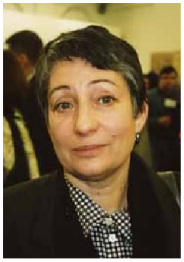 Having worked in the field of genetics and biochemistry, Ludmila Ulitskaya began her literary career by joining the Jewish drama theatre as a literary consultant. Her first novel "Sonechka" (Сонечка), published in Novy Mir in 1992, was immediately admired, and was shortlisted for the Russian Booker Prize. Her works have been translated into many languages and have been awarded international and Russian literary prizes, including the Russian Booker for "Kukotsky's Case" (2001).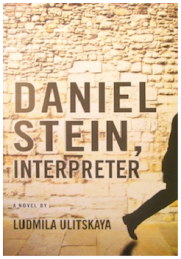 Ludmila Ulitskaya

Daniel Stein, Interpreter, A Novel in Documents

Translated by Arch Tait

Overlook Duckworth
New York and London, 2011

Hardback, $27.95 ISBN-13: US 978-1-59020-320-0
Hardback, £16.99 ISBN-13: UK 978-0-7156-4163-7
Hardback, Can $35.00

409 Pages
Winner of the Russian National Literary Prize, 2007

Winner of the Simone de Beauvoir Prize, France, 2011

"A fascinating work... Achieves the height of virtuosity"
Le Monde

"A feat of love and tolerance"
Washington Post

"... masterfully translated by Arch Tait, 'Daniel Stein, Interpreter' is a riveting read of literary historical fiction, a grade-A pick for any library collection."
Midwest Book Review

"Daniel Stein, Interpreter" is already seen by many as the great Russian novel of our time. Ludmila Ulitskaya has earned accolades abroad for this groundbreaking work, at last available in English.

The novel tells the story of Daniel Stein, a Polish Jew who narrowly survives the Holocaust by working for the Gestapo as an interpreter. After the war, he converts to Catholicism, becomes a priest, enters the Order of Barefoot Carmelites, and finally emigrates to Israel. Despite this seemingly impossible progression, the life and destiny of Daniel Stein are not an invention – the character is based on the actual life of Oswald Rufeisen, the real Brother Daniel.

This innovative, furious, and funny book, compiled as a series of documents – letters, diary entries, postcards, and other records – ranges from before the Second World War to modern times and from the shtetl to Israel to America. It portrays a life full of amazing contradictions and undaunted faith. In "Daniel Stein, Interpreter", Daniel's willingness to communicate with everyone, to translate across linguistic and cultural divides, not only assured his freedom but stands as a symbol of love, humanity, and tolerance.

From "Daniel Stein, Interpreter"

"I had been saving up what I had to tell him for so many years, and then between the soup and the bigos I could not find how to begin. He himself made it clear that he was prepared to listen to me. He said, 'You know, Daniel, it is very difficult to turn this great ship. There is a habit of thinking in a particular manner, both about Jews and about many other things. You have to change the direction without capsizing the ship.'

"'Your ship threw the Jews overboard, that's the problem,' I said. He was sitting almost opposite me, slightly to one side. He has large hands and the papal signet ring is large, and on his head was the white papal skullcap, like a yarmulke, and he was listening attentively. Then I told him everything I had been thinking these last years, the things which keep me awake at night."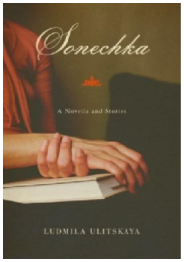 Ludmila Ulitskaya

SONECHKA : A Novella and Stories

Translated by Arch Tait

Schocken Books/ Random House, New York, 2005

Hardback, $23.00
ISBN 0-8052-4195-7
242 pages

Buy from Amazon

Shortlisted for the Rossica Translation Prize, 2007.

"Arch Tait's English translation faithfully captures Ulitskaya's carefully constructed colloquial style"
Moscow Times

"From one of the most important living Russian writers comes a collection of storytelling miracles. The Russian women in Ludmila Ulitskaya's stories are unlike any you have met before. They are charming, intelligent, seductive, and strong enough to carry an entire dysfunctional country on their backs."
Gary Shteyngart

Author of The Russian Debutante's Handbook

In these stories, love and life are lived under the radar of oppression, in want of material comfort, in obeisance to or matter-of-fact rejection of the pervasive restrictions of Soviet rule. If living well is the best revenge, then Ludmila Ulitskaya's characters, in choosing to embrace the unique gifts that their lives bring them, are small heroes of the quotidian, their stories as funny and tender as they are brilliantly told.

In "Queen of Spades", Anna, a successful ophthalmological surgeon in her sixties; her daughter, Katya; and Katya's teenage daughter and young son live in constant terror of Anna's mother, a domineering, autocratic, aging former beauty queen. In "Angel", a closeted middle-aged professor marries an uneducated charwoman for love of her young son, raising the child in his image. In "The Orlov-Sokolovs", perfectly matched young lovers are pulled apart by the Soviet academic bureaucracy. And in the stunning novella "Sonechka", the heroine, a bookworm turned muse turned mother, reveals a love and loyalty at once astounding in its generosity and grotesque in its pathos.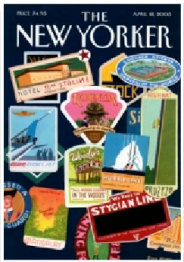 "The Orlov-Sokolovs"
was reprinted in
The New Yorker,
18 April 2005,
pp. 174-185
From "Sonechka"

"One of her most recent protectors, who materialised after she had been sent to a particularly monstrous skills training centre for orphans and devised an ingenious plan of escape, was a fat forty-year-old Tatar called Rafil, a railway carriage steward who conveyed her all the way to the Kazan station in the city of Moscow, chosen as the starting point for her meteoric rise. In the side pocket of a checkered shopping bag she had a passport, made out in her name a short time previously, which she had stolen from the principal's study, and a very modest twenty-three pre-reform rubles pinched from the somnolent Rafil as the train was approaching Orenburg. She had no problem with this stolen money for two good reasons: first, she really had peeled off very little from a very thick wad; and second, she felt she had earned every kopek of it in her four days on the train.

Rafil did not notice the theft and was keenly disappointed when, twenty-four hours later, his young protegee failed to return to carriage number seven to make the return journey to Kazakhstan with him as she had promised."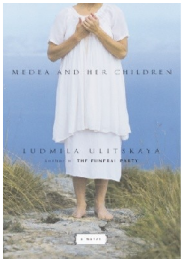 Ludmila Ulitskaya

MEDEA AND HER CHILDREN

Translated by Arch Tait

Schocken Books/Random House
New York, 2004

Hardback, $24.00
ISBN 0-8052-4196-5
Paperback, $13.00
ISBN 0-8052-1144-6
320 pages

Buy from Amazon

Ulitskaya was awarded the Booker Russian Novel Prize in 2001.

In this novel, Medea Sinoply Mendez is an iconic figure in her Crimean village, the last remaining pureblooded Greek in a family that has lived on that coast for centuries. Looking like "a portrait Goya had omitted to paint" in the widow's black she has worn since the death of her husband - a jolly Jewish dentist - many years before, the childless Medea is the touchstone of a large family of nieces and nephews who, together with their spouses, children, and friends, gather each spring and summer at her home.

Ageless and unflappable, Medea greets each successive wave of visitors with calm warmth and welcome and wryly observes their romantic entanglements, disappointments, conflicts, and passions.

Ludmila Ulitskaya, one of contemporary Russia's great novelists, weaves the story of the sprawling Sinoply family into a brilliantly detailed and richly textured tapestry.

An extract. Medea's grand-niece, Masha, is having an affair:

If before she had been no stranger to insomnia, in these months Masha slept a ragged and fitful sleep full of sounds, lines of verse and disturbing images. Unreal animals came to her in her dreams, animals with many legs, many eyes, half-birds, half-cats, with symbolic allusions. One, fearfully familiar, rubbed up against her, and its name was also familiar to her. It consisted of a series of numbers and letters. When she woke she remembered its strange name: Zh4836. She burst out laughing. It was the number printed in thick black ink on the linen ribbon she sewed to the bed sheets before sending them to the laundry.

All this nonsense was imbued with significance. One time she dreamed a completely finished poem which she wrote down while half asleep. She was amazed when she read it the following morning. "It isn't mine, it isn't mine. I could never have written this myself."


" Through lust to love and into the abyss
of destinations reached past our contriving:
I give the words that tell of you and this,
I serve as target too of all your striving;
and in the brooding darkness of our blood
the instant blazes like a blunderbuss,
and all is swept away as in a flood
and leaves no brim between the one of us."