Lyuba Vinogradova was born in Moscow. After graduating from the Moscow Agricultural Academy with a PhD in microbiology, she took a second degree in foreign languages. In 1995 she was introduced to Antony Beevor and helped him to research his Stalingrad.

She contributed to many other projects, and is the co-author (together with Beevor) of A Writer at War: Vasily Grossman with the Red Army.
The girls came from every corner of the USSR. They were factory workers, domestic servants, teachers and clerks, and few were older than twenty. Though many had led hard lives before the war, nothing could have prepared them for the brutal facts of their new existence: with their country on its knees, and millions of its men already dead, grievously wounded or in captivity, from 1942 onwards thousands of Soviet women were trained as snipers.

Thrown into the midst of some of the fiercest fighting of the Second World War they would soon learn what it was like to spend hour upon hour hunting German soldiers in the bleak expanses of no-man's-land; they would become familiar with the awful power that comes with taking another person's life; and in turn they would discover how it feels to see your closest friends torn away from you by an enemy shell or bullet.

In a narrative that travels from the sinister catacombs beneath the Kerch Peninsula to Byelorussia's primeval forests and, finally, to the smoking ruins of the Third Reich, Lyuba Vinogradova recounts the untold stories of these brave young women. Drawing on diaries, letters and interviews with survivors, as well as previously unpublished material from the military archives, she offers a moving and unforgettable record of their experiences: the rigorous training, the squalid living quarters, the blood and chaos of the Eastern Front, and those moments of laughter and happiness that occasionally allowed the girls to forget, for a second or two, their horrifying circumstances.

Avenging Angels is a masterful account of an all-too-often overlooked chapter of history, and an unparalleled account of these women's lives.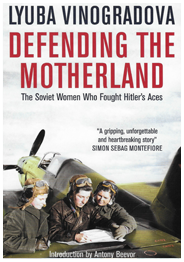 Lyuba Vinogradova

Defending the Motherland
The Soviet Women Who Fought Hitler's Aces

Translated by Arch Tait

With an Introduction by Antony Beevor
MacLehose Press, London, 2015
Hardback, £20.00 ISBN 978-0-85705-192-9
Paperback, £9.99 ISBN 978-0-85705-195-0
e-Book available

Translation kindly supported by the Mikhail Prokhorov Foundation Transcript Programme
A gripping, unforgettable and heart-breaking story of female heroism in war and terror, written elegantly, filled with new research – archival and oral – and told here fully for the first time. Not just a tale of amazing derring-do, but a terrifying window into Stalinist Russia. Simply superb."

Simon Sebag Montefiore
author of Stalin: The Court of the Red Tsar


"Vinogradova brilliantly weaves together the heroic – and long ignored – stories of the Soviet airwomen of the Second World War. She gives testament to their courage, technical skill and patriotism, as well as revealing darker stories of betrayal and political intrigue in their midst. Every page evokes in vivid detail what it was like to be a woman at the heart of the the male world of aerial combat in Stalin's Russia. Defending The Motherland is a feat of historical research and a wonderful, stirring read."

Rachel Polonsky
author of Molotov's Magic Lantern

"Superbly written and researched, Defending the Motherland not only tells a gripping story from the Eastern Front, but brilliantly opens a window on wartime Stalinist society. Making her solo debut here, Vinogradova takes her place in the top flight of Russian historians."

Anna Reid
author of Leningrad: Tragedy of a City under Siege: 1941-1944

"Lyuba Vinogradova tells the poignant story of the determined young women who fought and died in the air above Stalingrad and elsewhere in the epic struggle to expel the German invaders from their country. It is an absorbing and meticulously researched account"

Sir Rodric Braithwaite
author of Moscow 1941: A City and Its People at War

Defending the Motherland weaves together the untold stories of the female Soviet fighter pilots of the Second World War. Enlisted from every background, and led by an NKVD major, the new recruits who boarded a train in Moscow on 16 October 1941 to go to war had much in common with millions of others across the world. What made the 586 Fighter Regiment, the 587 Heavy-bomber Regiment and the 588 Regiment of light night-bombers unique was their gender: the Soviet Union was creating the first all-female active combat units in modern history.